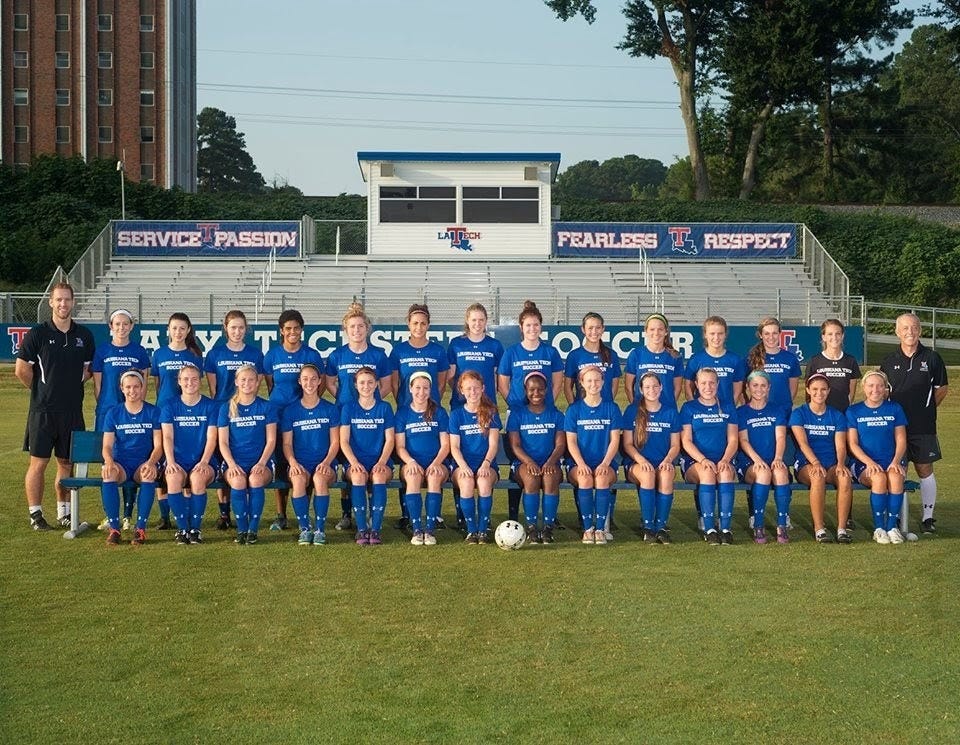 Nicole, you have a very interesting life path, including a history of college soccer. Let's start with your soccer career: Where did you start and what stages did you go through?

It all began at the age of six in the local soccer club FC Dielsdorf. There I played for six years in an all-boys team. At the age of 12, I was called up for the first time to play in the Zurich regional team and at 14, my first big dream came true when I was accepted into the training centre of the Swiss Football Association. At the same time, I switched to the U-18 team of FC Zurich, with whom I played in the national championship.
At the age of 15 I made my debut in the Swiss U-17 national team and in the National League A with FC Zurich. After completing my time at the national training centre, I started school at the Kunst- und Sportgymnasium Rämibühl in Zurich. During this time, I was able to celebrate three Swiss championship titles as a player with FC Zurich and participated twice in the UEFA Women's Champions League. In addition, I continued to be an integral part of the U-17, U-19 and U-20 national teams, including qualifications for the U-19 UEFA European Championship and U-20 FIFA World Cups.
After graduating from the art and sports high school in Zurich, I wasn't ready to give up soccer or my studies. So, I chose to join the soccer team of Louisiana Tech University.

Tell us about your college soccer days. What college team did you play for and what did you study?

I played for Louisiana Tech University (LA Tech) in the south of the USA during my entire college soccer time. Colleges that belong to the NCAA are divided into three divisions, with LA Tech playing in the first and highest division.

The soccer season in the States is set up somewhat differently than here in Europe. From December to July, the off-season begins and focuses on fitness, tactics and study. The pre-season starts in early August and includes three training sessions per day and some test matches against other universities. The regular season itself is quite short and only lasts from September to November. But it is even more intense, as there is usually a championship match on Fridays and Sundays. Due to long travel times and high temperatures, the rules of the game are also a bit different. The squad has considerably more players (about 30) and the number of substitutions is not limited.

In my first year at the university, English literature lessons were the most interesting and challenging part. Not only did I perfect my spoken and written language, but I also learned a lot about English and American culture, politics and society. So, in addition to soccer, I decided to pursue a Bachelor of Arts in English with a minor in Modern Languages (focus on French).

Why did you choose this particular university? What did you pay special attention to when choosing the university?

The selection of the university was quite difficult. My preconditions were that I receive a full scholarship, that the soccer level is high enough and that the university offers courses in my field of interest.
As a soccer player with a high school diploma and playing in the national team, the chances of getting a full scholarship in the USA are relatively good. So, I received numerous offers from various universities, which I checked by conducting research and talking to players and coaches. Little by little, offers fell out of my preference list until only the most interesting offers were left. In the end, the commitment of the LA Tech coach convinced me to sign a contract with the university.
In retrospect, I would advise every player to figure out how long the coach has been a coach at the university, how long his contract will last and how often the coach has changed teams in the past. Instability in the coaching staff can often lead to difficulties.
At the FCZ academy you played at a very high level even before you went to college. How do you rate the level of players in college? Were you able to further improve during this time?

The answer certainly depends on the team. There are more professional and less professional teams. It is important to check everything carefully before signing a contract. For example, I researched the background of the players and their game to better understand the team's attitude and playing style. Personally, I had just recovered from my second knee surgery and was once again full of ambition. Therefore, I wanted to choose a team that could offer me very good development opportunities.
In general, women's soccer in the USA is much more athletic than here in Europe. Fitness, endurance, speed and strength are usually more important than technique. In addition, Americans are mentally much tougher. Only the victory counts. As a result, I improved a lot from an athletic and mental aspect, which still helps me today. The experience in the USA was a school of life.
In purely soccer terms (infrastructure, training and technique), the quality was perhaps not quite as high as at FC Zurich. But in my opinion, you should already have a good technical basis and professional attitude to be able to maintain the soccer level from Europe. At the end of the day, in international comparison, the Swiss are usually less competitive in athleticism and mental aspects. The college years in the USA can be used to develop precisely these qualities.

How did you become interested in college soccer? Were you also thinking of starting a professional soccer career?

In Switzerland, I had already celebrated the greatest possible successes with the FC Zurich and played soccer as professionally as possible in Switzerland. For further challenges I had to look beyond the national border. College soccer had been on my mind for a long time, as the Swiss soccer standout player, Lara Dickenmann, and some other good Swiss soccer players had already gone to college before my time. Studying, playing soccer, having an abroad experience and learning English seemed like a good combination to me. So, I decided to take the next step with an American college myself.
Pursuing a professional soccer career was not an option to me. This was partly because there were not so many possibilities at that time and partly because of my health condition. In addition, education always had top priority and the balance between sport and school helped me to achieve top performances.

Many players report that college sport was a unique experience. What was the most memorable experience you had during your time in the USA? What do you remember most?

I remember two things in particular: "People make places" and the American winner mentality.
When you think of America, California, New York or Miami usually comes to mind. You often forget that America is also largely rural. My university, for example, was based in a small town that didn't offer many opportunities to do something outside of the university. But you got to know students from all over the world very quickly and easily. Especially the athletic teams were very international, and we spent a lot of time together. At every opportunity we were together in a car and made road trips, visited the family of a fellow player or supported the other sport teams at their home games. There was always something going on at campus.
As a college athlete, you are highly regarded in the USA and you feel that sport in general is much more appreciated than here in Switzerland. Americans never miss a chance to stand on the pitch and really live the American winner mentality - "go out and do it" is the saying. In addition to top performances, however, respect for the sport is of highest importance. This attitude - to respect your opponent, but still believe in your own strengths and never give up – will be a part for the rest of your life.
What advice would you give to future college soccer players from Switzerland? What should they pay special attention to during their time in the USA?

Being a college athlete is a special time. You have manageable commitments, can travel a lot and combine academics and athletics in the best possible way. The profile of a college athlete is exceptional, so that you often stand out in later applications in the business world. I would be as open, curious and adventurous as possible to get to know new people and places. At the same time, I would advise college soccer players to invest a lot of time in your studies - the better your grades the more opportunities you have after college. In addition, I have had very good experiences by doing internships in Switzerland during the summer holidays. This allowed me to gain my first work experience and build up my professional network here in Switzerland.

What did you do after your college career in the USA? Where do people find you today and what do you do?

After completing my bachelor's degree at LA Tech, I went on to earn a master's degree in management at Imperial College in London. America and the United Kingdom have similar educational systems, which made it easy to continue the studies. This master's degree also opened up some professional doors for me. After graduation, my first permanent position followed at Capco London, a global management and technology consultancy for the financial services industry. I am still working for Capco today and was recently able to transfer within the company to Switzerland.
Although I hung up my soccer boots when I moved to London, sport has always been an important part of my everyday life. Furthermore, I really believe that I would not have had the same career opportunities without the college sport experience in the USA. In my opinion, college sport offers an ideal basis for either further advancing your soccer career (see example of Lara Dickenmann) or lead you to a challenging professional career. Therefore, I would recommend anyone who gets the opportunity to become a student athlete, to take on the challenge and start a new and unforgettable life chapter in the USA.

Nicole, we thank you very much for this exciting interview. We wish you as much success as possible and hope that you will continue to stay in touch with college sports in the future.