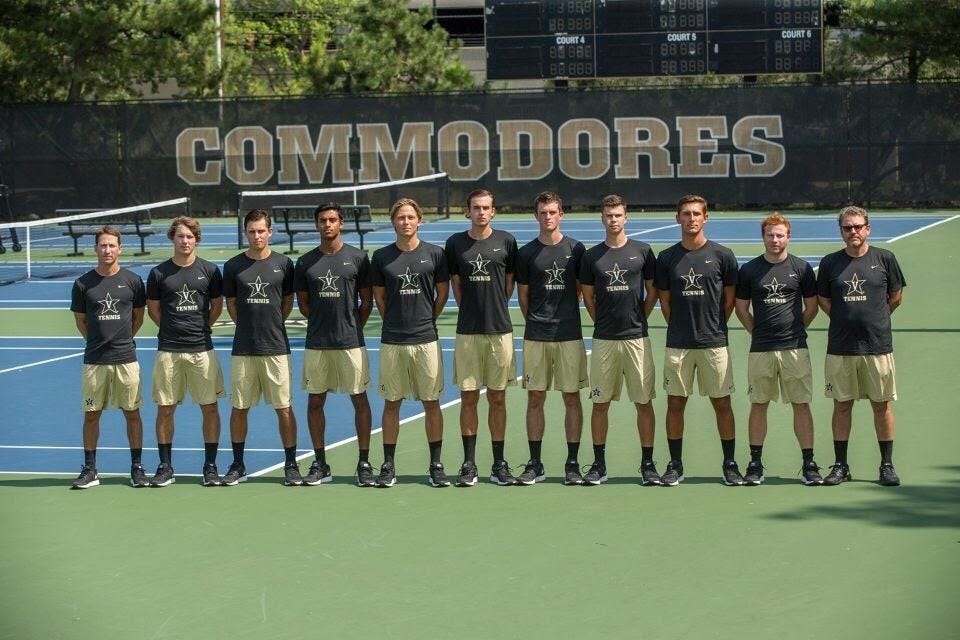 Daniel, you are one of the most successful Swiss tennis players with a college tennis past. Tell us about yourself, when did you start playing tennis and how did your tennis career go? What was your greatest success?

I started playing tennis at an early age. I held the first racket at the age of 2 and was hitting against a suspended tennis ball. In kindergarten I started with regular hitting sessions until I was able to celebrate my first success by reaching the semi-finals of the Under 12 Swiss Championships. From that moment on I started to train 2-3 times a day. My biggest accomplishments were:
4-time Swiss Champion (2x U14, 1x U16, 1xU18)
U14 semi-final at the Nike Junior Tour Finals in Punta Cana
2013 Participation in the tournament "Where Legends meet Talents"
2017 Winner of the Ohio Valley Regional Tournament and qualification for the Masters in Indian Wells
We have already briefly addressed the subject of college tennis. Where exactly did you study and for which university team did you play?

I played for Vanderbilt University, a university in Nashville, Tennessee. We competed as a Division 1 team in the Southeastern Conference (SEC) against Florida, Texas A&M, Louisiana State, Alabama, Tennessee, Arkansas, Mississippi State, Georgia, Kentucky, and South Carolina.

What was your expectation when you took the flight to the States? Were you surprised by what you saw, or did you have the opportunity to visit the university in advance?

I was extremely nervous. It was like a fresh start for me in a new environment with different people. But I was also happy because many of my friends who played college tennis told me that I had the best 4 years ahead of me. I had the opportunity to do a recruiting trip. I visited the University of North Carolina, Wake Forest and Vanderbilt. I immediately realized that I wanted to go to Vanderbilt. I would recommend every prospective college player to take a recruiting trip. For me the trip was completely free, the universities paid for the flight and the expenses. It was very helpful for me to get a better idea of the universities on site.
What does a day in the life of a student athlete in the United States look like?

If you want to be successful as a student athlete, you need to have great time management skills. The days as an athlete are usually long, because compared to the normal students, athletes also have daily tennis and strength training. After that, homework and other duties have to be taken care of. You are busy all the time. I studied molecular and cell biology with a minor in chemistry. It definitely takes a lot of discipline to be successful in tennis and at university. But you cannot neglect the social aspect. I often used the time with colleagues to study together.

You played with your university team in the highest NCAA division. What was your impression of the tennis level in college? Were you surprised by the strength of the players?

The level in tennis was very high. In the beginning I was a bit shocked. Many players were physically and mentally stronger than me. College tennis is a bit different than tournaments in Switzerland. It is much more intense and louder during the matches. But with time you get used to it and get better at it yourself. Thanks to my time in the US, I have made noticeable physical and mental progress.

Let us take a step back. How did it happen that you considered going to the US? How did you hear about college tennis?

My colleague Karl Wishart, who had studied at the University of North Carolina, first approached me about college tennis. That was in 2012, two years before I graduated from high school. I was immediately convinced of the idea to go to the US and work on my English and my tennis skills. So, I started playing many ITF junior tournaments to climb up the rankings. I knew that the coaches in the US wanted a good ITF ranking. My best ITF ranking was number 70 in the world for juniors under the age of 18. That is also why many coaches contacted me via Facebook / e-mail.

What happened after that? How much work and effort did you have to put in until your first day as a college player? Did you have any support?

There was still a lot to do. Unfortunately, the NCAA is a very cumbersome and bureaucratic organisation. I had to fill out many forms and have all certificates translated and certified. I also had to take an SAT and TOEFL test. It was a stressful time because I had no support. I did not know if I did it right and it was a lot of work.
What is your best memory of your time in the United States? What was your greatest athletic success as a college player?

That is a difficult question because I have so many great memories! But the trips to Los Angeles and New York with the team were definitely a highlight. Besides tennis, we went exploring the city together. My biggest success was winning the Ohio Valley Regional 2017. I beat 127 other players and I played the best tennis of my life in this tournament.

How would you rate your time in the US? Did you like the concept "College Sports" and would you do it again?

The time in the US was awesome. If I had the choice, I would go again without hesitation. Four years of college tennis have definitely shaped me. I have grown as a tennis player and as a person. I have found many friends for life. I really liked the concept of college sports, mainly because it promotes the team aspect. Tennis is usually an individual sport but in college you play for a team. I was close friends with my teammates and also got along great with my coaches.

Who would you recommend college tennis to? What can the person expect? And if you could give an advice, what should one pay special attention to?

Any tennis player who has a good work ethic and is willing to try something new, I recommend college sports. It is really the best combination of university and sports. You can play your sport at a top level and study at a great university at the same time. There are so many benefits that will help you for the rest of your life. Anyone who has the opportunity to play college tennis should take that chance. And if you want, you can still go on the professional tour afterwards. All doors are open to you after graduating from college.

Daniel, we thank you very much for your exciting stories and wish you much success for your future. We are looking forward to seeing you and hope that we will continue to meet you on the Swiss tennis courts.