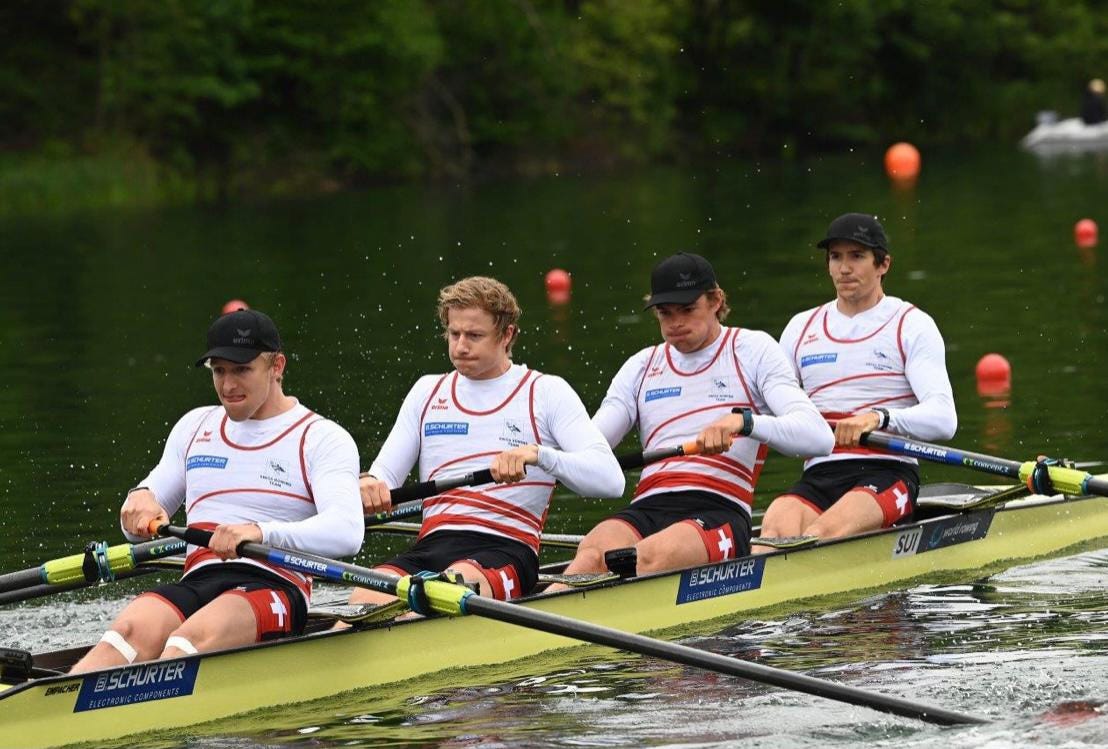 Andrin Gulich
22-year-old Andrin is on the verge of his career highlight so far – the Olympic Games in Tokyo.
Most recently, he was able to represent the Swiss coxless four at the European Rowing Championships in Varese. Together with Joel Schürch, Paul Jacquot and Markus Kessler, they missed the qualification for the A-final by only 4 hundredths. This race was however only to be seen as an assessment before the season's highlight, the Olympic Games.
To achieve this goal, Andrin's focus lies currently completely on rowing, even though Andrin is at the moment technically studying at the renowned Yale University in New Haven, Connecticut. Like so many athletes and students, Corona disrupted all of Andrin's plans and he had to make his way home in March 2020 when the campus closed. By year's end, he was completing online courses on his way to a degree in business and data science. Now he has postponed his last semester and he will only graduate in spring 2022. The graduation ceremony is scheduled for May of next year. The most important date on his agenda, for now, is the Olympic games though. A dream come true for which he has been training full time at the national performance center in Sarnen.
Andrin, you were already extremely successful as a junior and won both European and world championship titles at that level. What made you decide to study abroad in the United States?


The possibility of combining studies and sport at the highest level is unique in the USA and was the decisive factor in my decision to study abroad.

What are your impressions of the level and training conditions in college? Did you already have a precise idea of the athletic level before you started there?

I was allowed to visit various universities during "official visits" before choosing my university and was thus able to get an idea of the campus and the training infrastructure. The training conditions leave nothing to be desired. From indoor training possibilities to flat water and good athletic trainers and physios, the universities have everything to offer. The rowers at the American universities are world-class in their age group and quite a few win medals for their countries of origin at the annual U23 World Championships.

Since 2017, you have been studying at the prestigious Yale University, where you benefit from the college rowing experience. How did you come to choose Yale? Were there offers from other universities? What criteria were decisive for you in choosing your college?

I was able to visit several universities and was in contact with multiple coaches. The deciding factors for Yale were the people I got to know from the team, the past athletic success and the good gut feeling I had during my "official visit".
Basically, the 2k ergo time is considered the most important recruiting criteria. Besides this performance index, what other criteria are coaches evaluating?

As a potential "recruit" you are in constant communication with coaches throughout the recruiting process. In addition to the 2k ergo time, the coaches also want to see good results at national as well as international races and may also request rowing videos from the recruits.

Tell us about your relationship with your coach - who is almost a cult figure in the US?

Steve Gladstone is a great coach who has helped me develop as an athlete and as a person.

Please take us briefly into your college life - when Covid is not interfering. How do you successfully balance sports and studies?

We usually have two practices and three lectures per day. In addition, in the American university system, there are numerous assignments and paper submissions during the semester and many midterm exams. To juggle all of this, you need good time management and a lot of discipline. Fortunately, the final exams are scheduled so that they do not interfere with our training and racing schedule.

How is rowing in the U.S. and college sports in general different from your experience in Switzerland?

The biggest difference is the size of the team, which has a significant impact on an athlete's life. There are about 45 of us on our college team and we put five eights in each regatta. Training with so many like-minded rowers daily is extremely motivating and pushes you to constantly work on yourself to be able to deliver better performances.
Now you have actually secured a spot on the Swiss Olympic boat. How did you manage to do so despite your studies in the USA and the associated physical absence? How were your contacts and exchanges with the people in charge in Switzerland?

Since I started my studies at Yale, I have been in constant contact with the coaches in Switzerland. The postponement of the Olympics presented a unique opportunity for me. I was able to continue my studies online last fall while training with the Swiss rowing team in Sarnen, from which the fastest four were selected for the Olympic quad this spring.

If you could give one piece of advice to future college rowing athletes from Switzerland, what would it be?

Start early enough with the process and research and do not be afraid to approach different schools and seek personal contact with the coaches.

Andrin, we would like to thank you very much for the interesting interview. We wish you every success in the final preparations and then, of course, at the Olympic Games, and hope that you will be able to complete your studies next spring as planned.